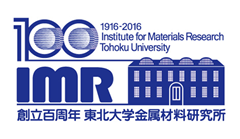 Reimei/GP-Spin/ICC-IMR International Workshop
"New Excitations in Spintronics"
Description:
Tohoku University has been a center of research on the physics of spintronics, i.e. the science and technology to control the charge and spin of the electrons in small structures and devices. Its researchers have profited in the past directly and indirectly from the support by the Reimei program of the JAEA and the Graduate Program on Spintronics (GP-Spin) of Tohoku University. In this workshop we want to bring together the different blood groups of spintronics, who otherwise meet only in specialized workshops focused on a single topic. In particular, we wish to explore novel ways of extending spintronics by coupling to other excitations, such as magnons, photons, phonons, spinons, cavitrons, excitons, orbitrons, etc. We invite selected researchers who share results on dispersion and lifetimes of such excitations as well as experts in spintronics in order to exchange thoughts and ideas that will lead to improved spintronic devices.
Zao satellite meeting
Following the workshop we will be running an excursion to the Zao Onsen ski resort (http://www.zao-spa.or.jp/english/). The slopes are built on the side of a volcano and this resort is famous for the gigantic rime covered trees which inhabit the upper slopes - known locally as "snow monsters." The skiing area is quite large and suitable for all abilities, from the almost flat beginner slopes to the 38 degree Yokokura No Kabe. The apres ski will involve taking a relaxing bath in the volcanic hot springs inside of a traditional Japanese onsen hotel. The evening meal will be Japanese "washoku" style. Then it will be time to get a good night sleep in the traditional way, sleeping in a futon on top of traditional tatami matting. For those not of a skiing persuasion the snow monsters can be viewed by taking the ropeway to the top of the mountain. If the weather is clear you will have a fantastic aerial view of the monsters and even if it is cloudy you can step of the top station for a face to face experience. We will leave Sendai on Saturday morning and stay for one night in Zao Onsen, skiing on both Saturday and Sunday. It is possible to return to Tokyo directly by shinkansen from the nearby city (Yamagata) on Sunday afternoon/evening. The estimated cost is ~15,000 JPY per person for hotel+bus (one way from Sendai). Ski pass is ~5,000 JPY per day and rental is roughly ~3,500 JPY per day (skis, poles, boots) (extra if you need clothing). NOTE: The hotel is in the traditional style which means sharing hotel rooms of about 4 people. If you cannot share a hotel room or wish to stay as a couple please get in touch immediately.
Location
Institute for Materials Research, Tohoku University in Sendai, Japan (Workshop) and Zao Onsen (Satellite)

The Workshop lectures will be given in the Lecture Hall (Auditorium) and posters presented in the Lounge of the Institute for Materials Research, Building 2.
Financial support:
Reimei Workshop of the Advanced Science Research Center (ASRC), JAEA, Japan
GP-Spin
ICC-IMR
Grant-in-Aid for Scientific Research (S) (25220910)